Award-winning Photographer, Mark Pugh, joined Kerry and Lee at their hotel, the Aegean Plaza in Kamari, Santorini.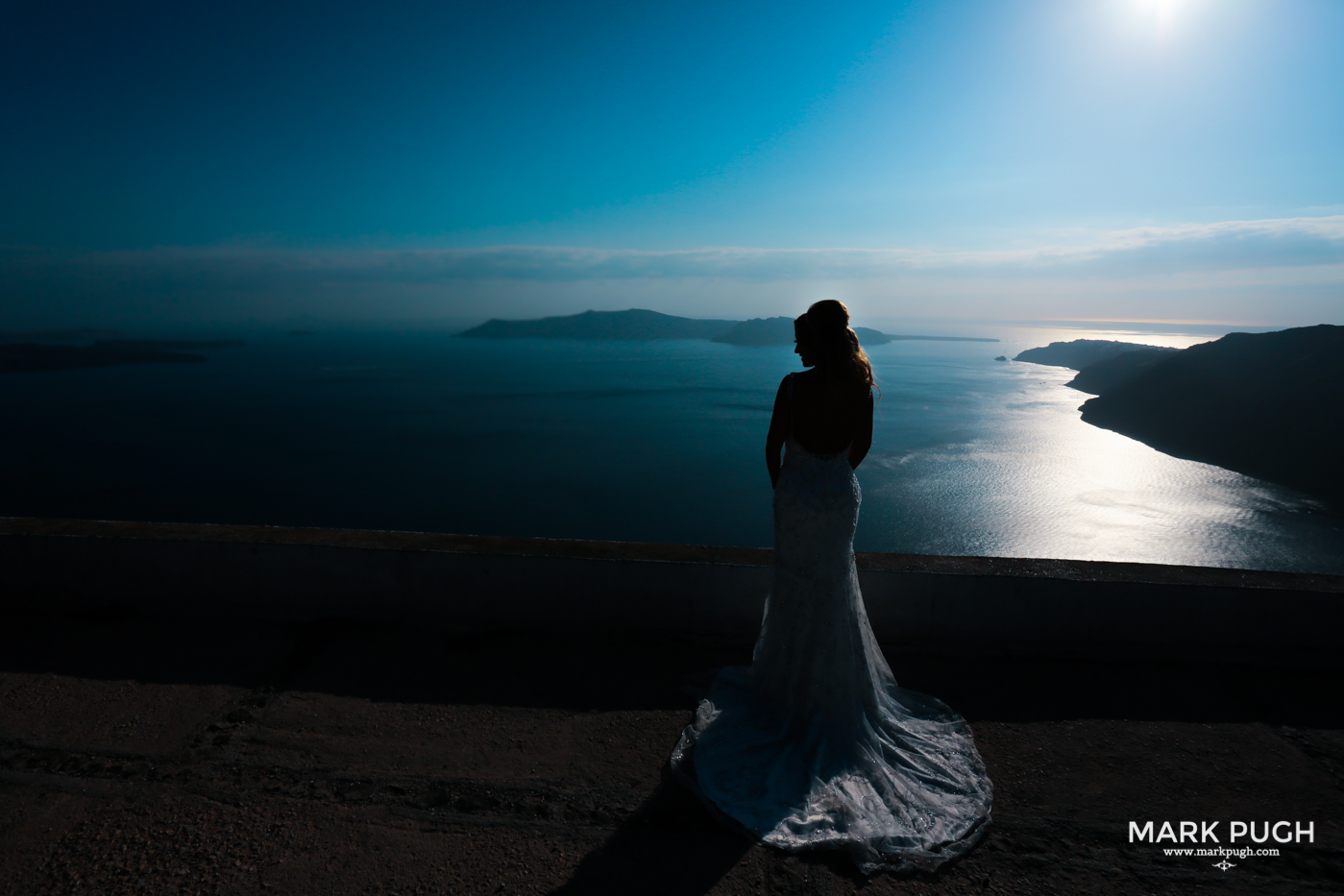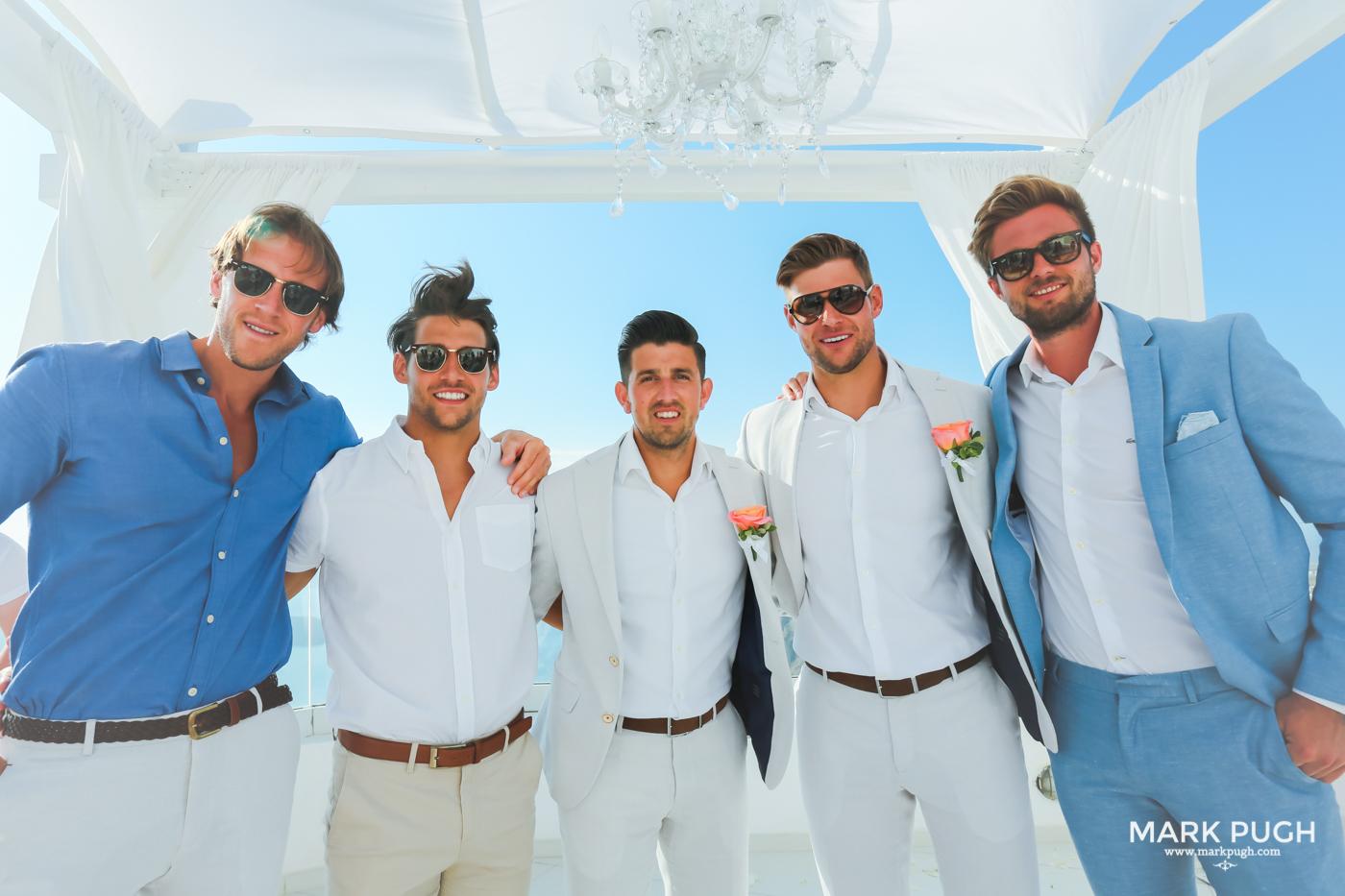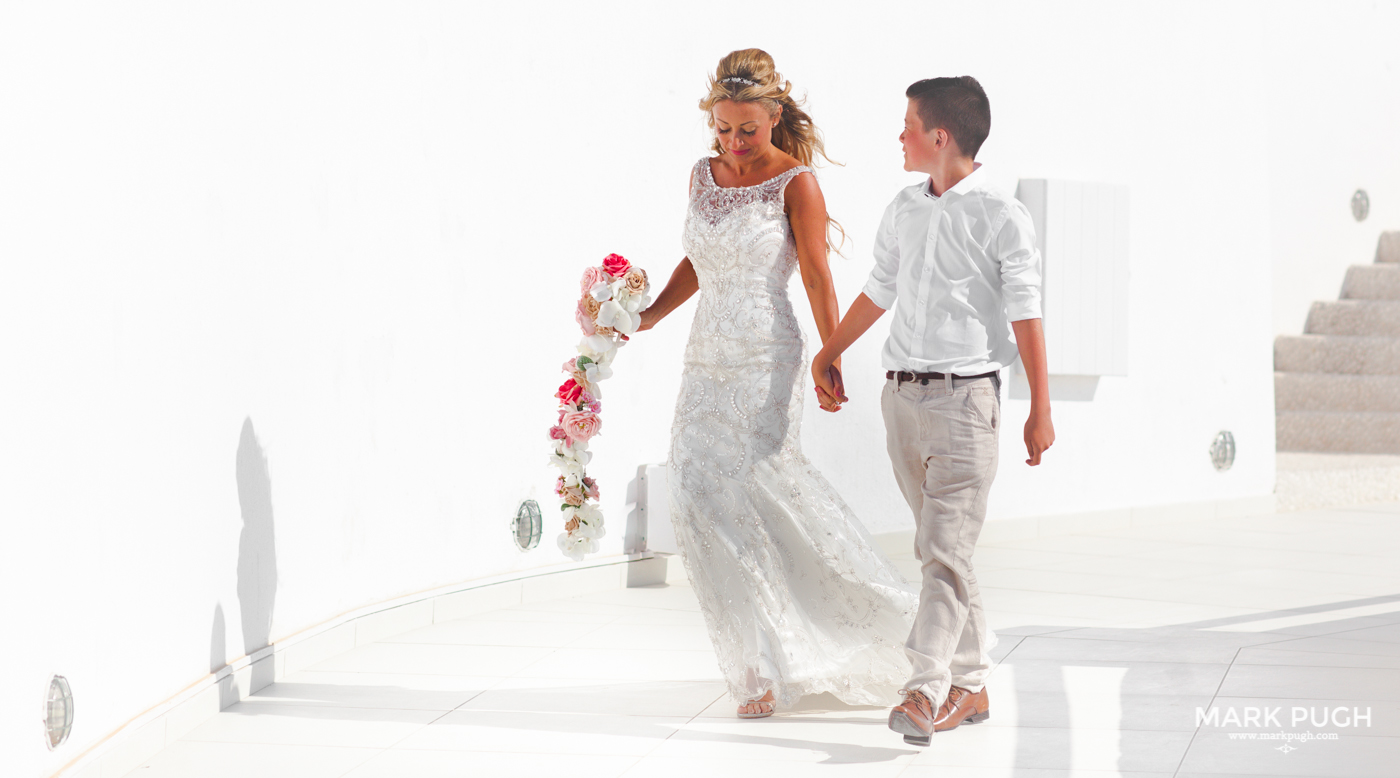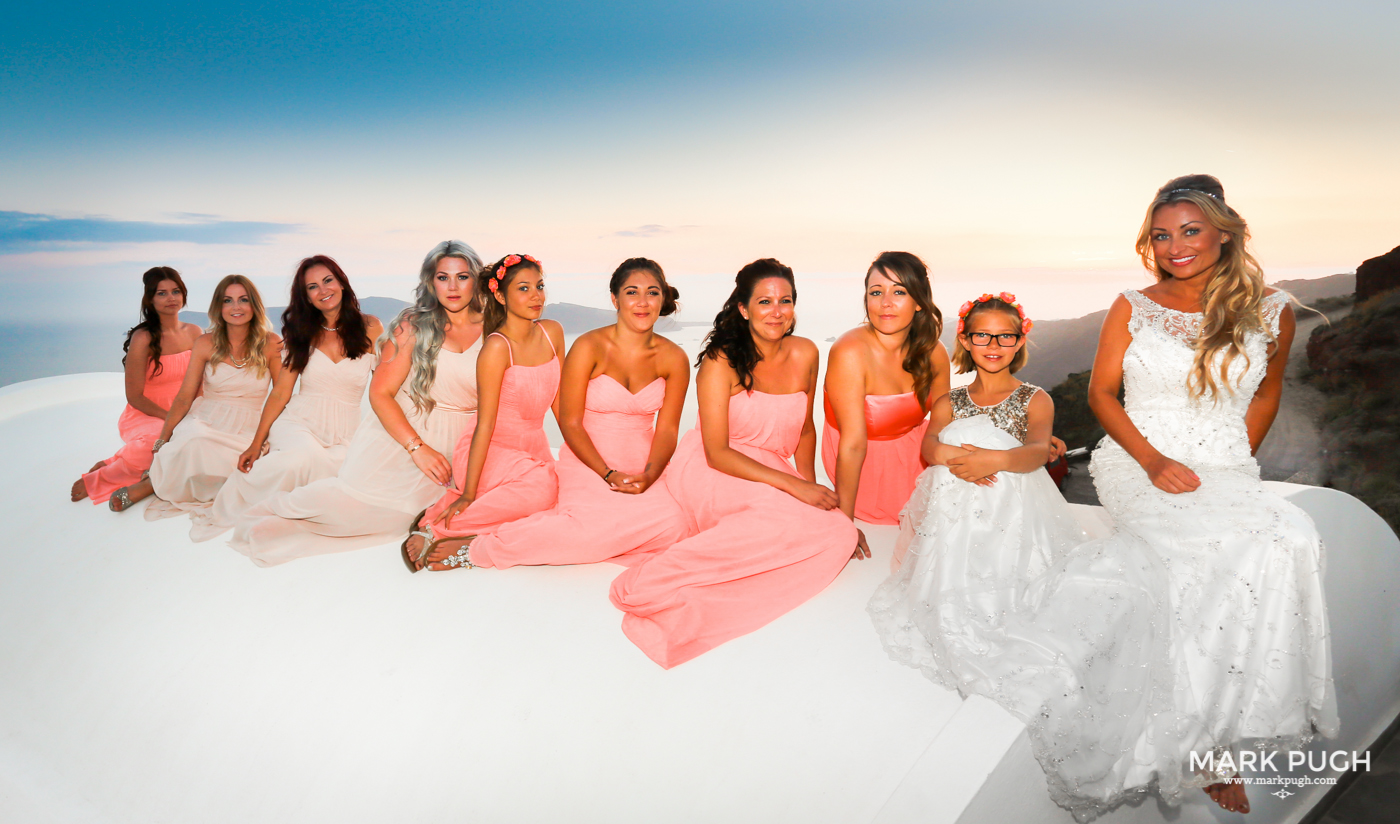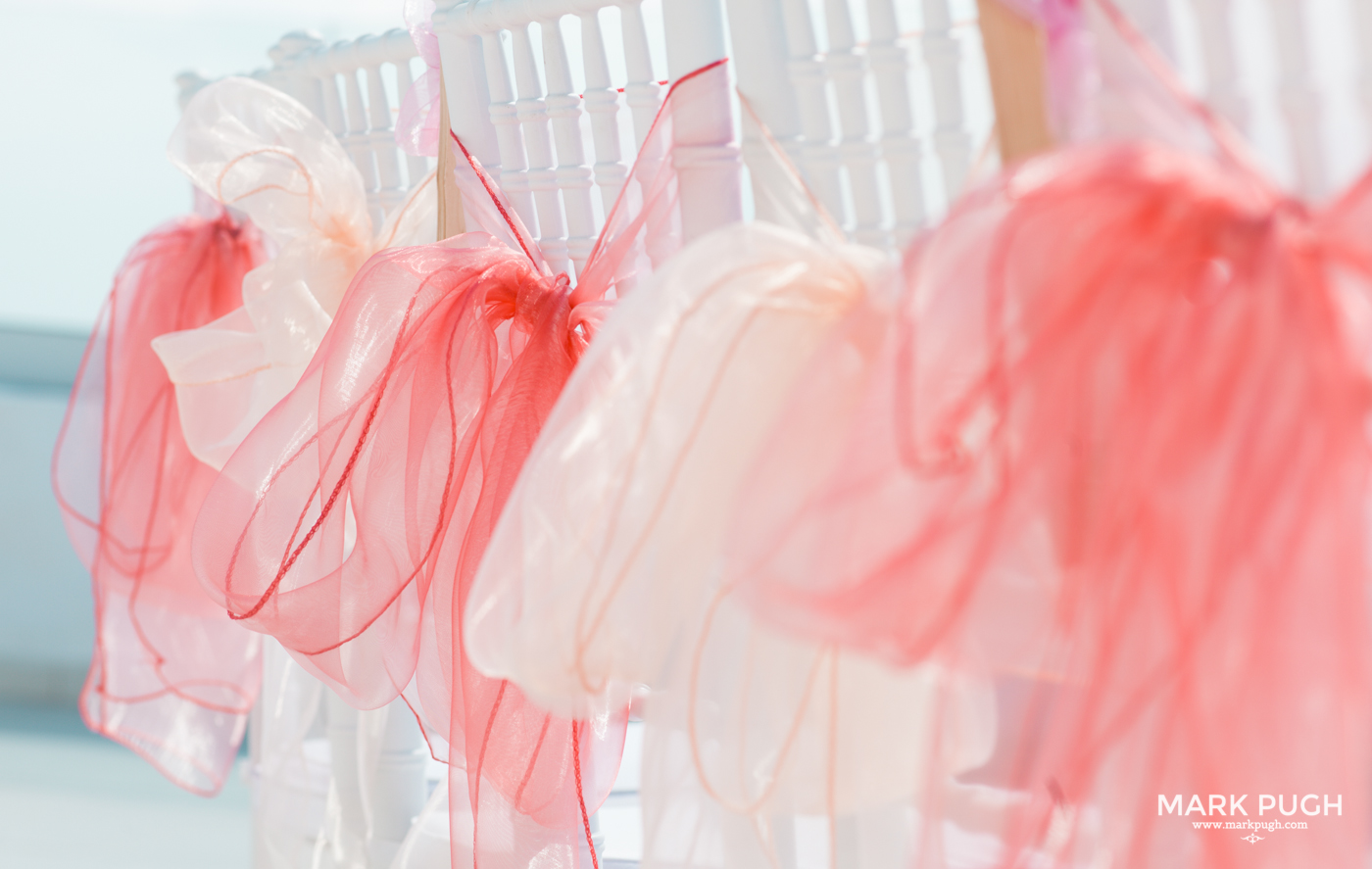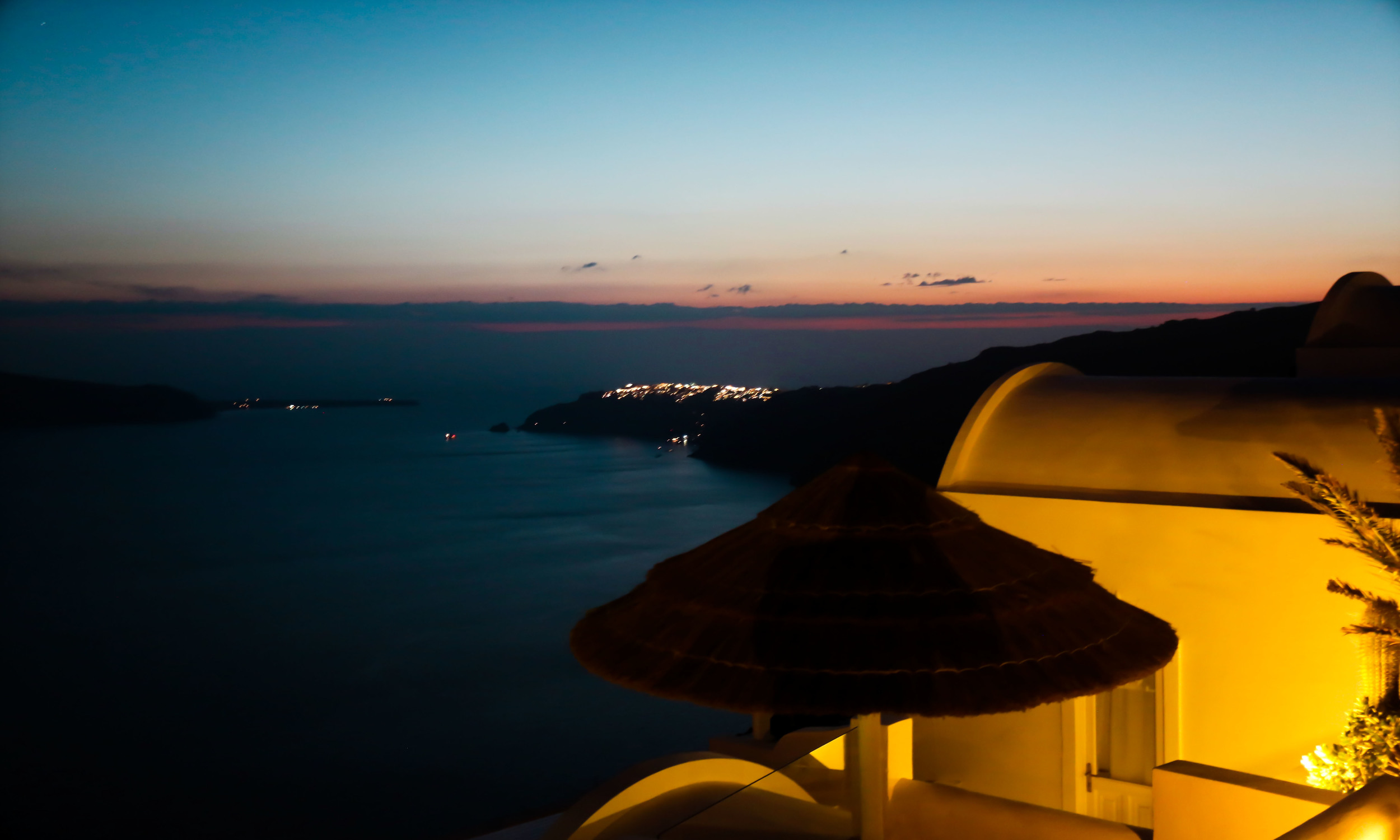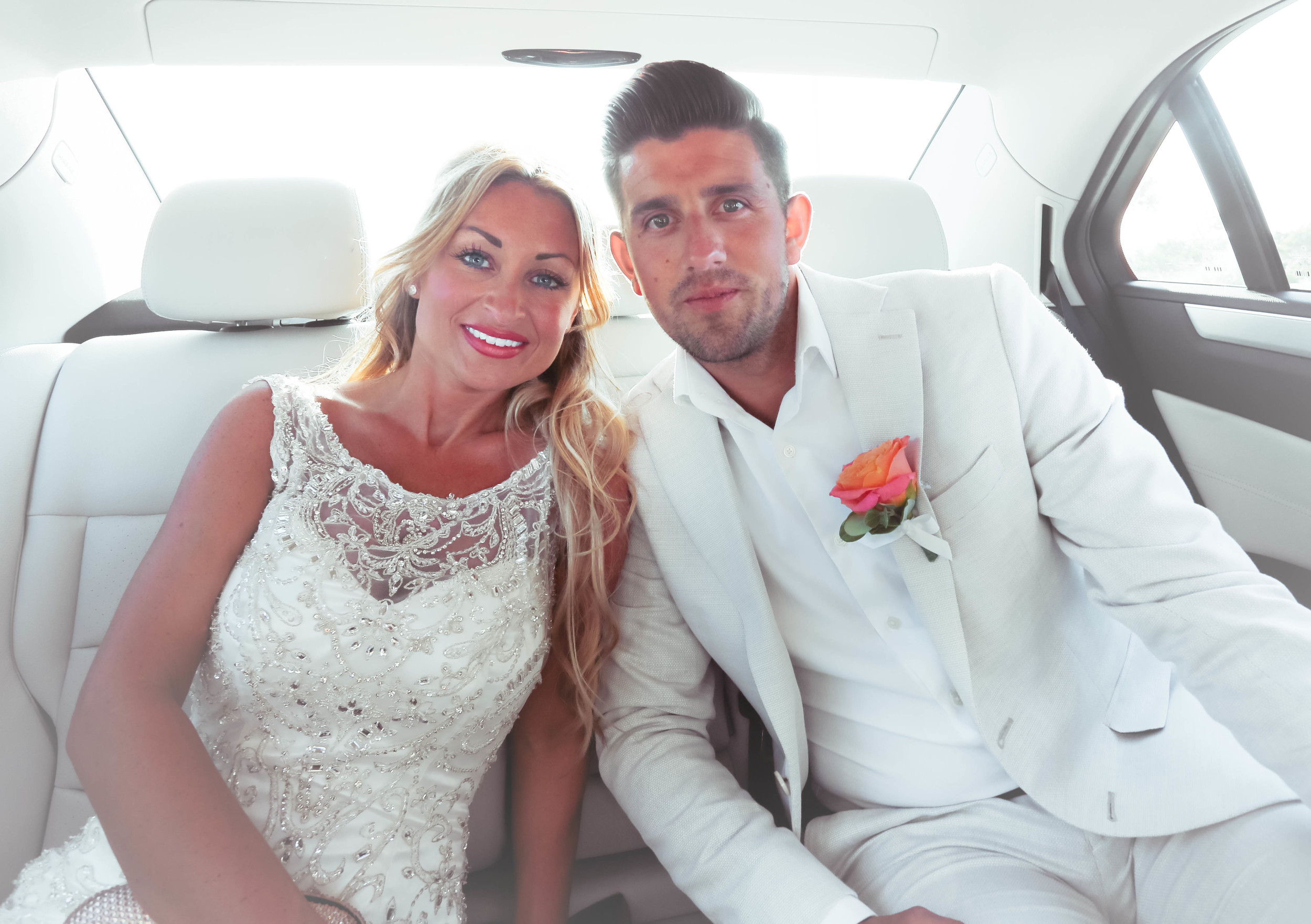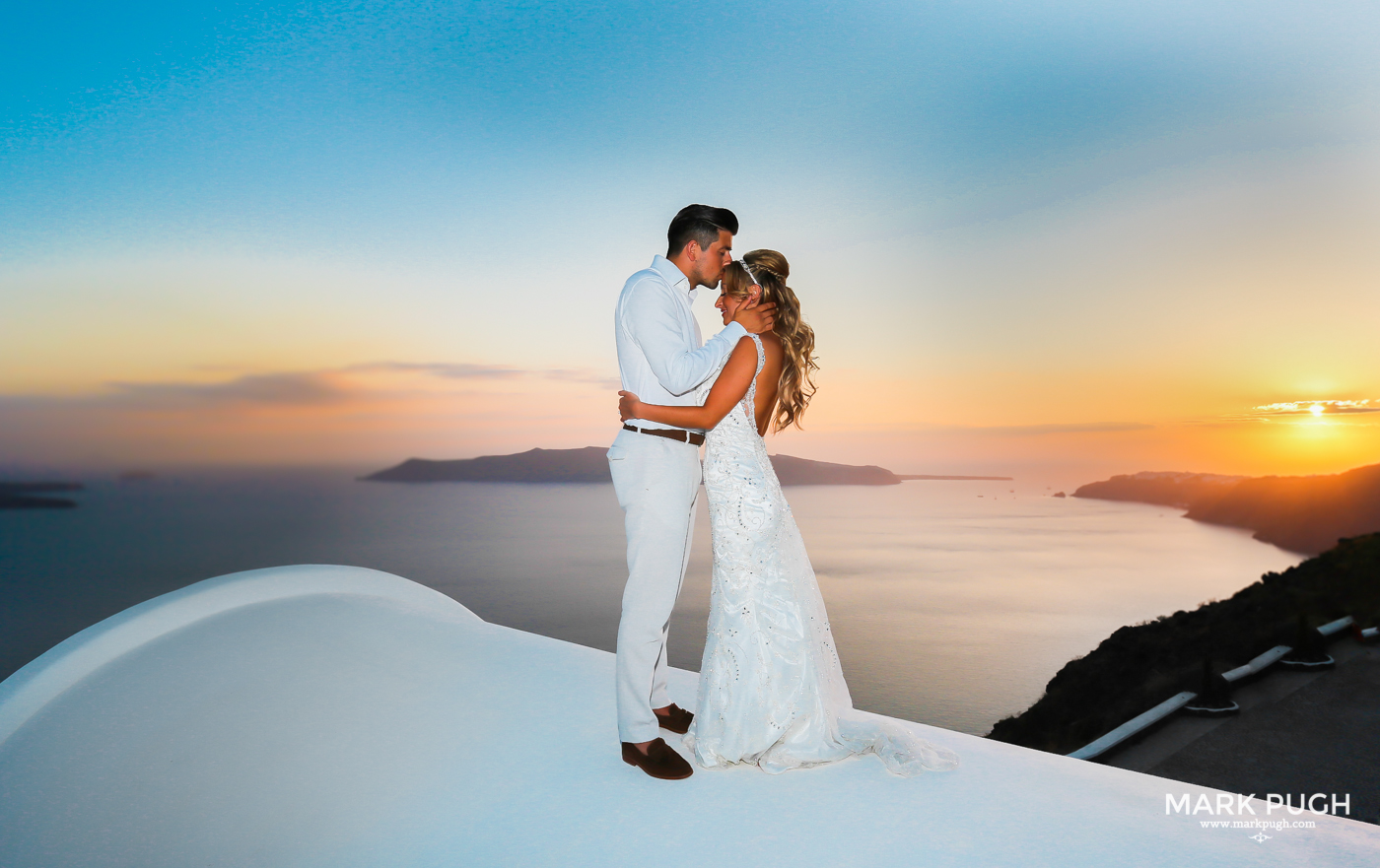 They prepared for this most special of days in separate rooms across one another from the swimming pool. Mark was able to capture both the bridal and the groomsmen's preparations with ease. As is so very often the case, there was an eery calm over the proceedings, and as Kerry's (many) bridesmaids came in to see her, if there was any pre-ceremony nerves, they weren't visible.
As the hot, bright, cloudless Santorini sun beamed down onto this incredible island, the wedding coach arrived to collect the groom and over thirty of their friends and family who had all travelled from the United Kingdom.
After a short drive through tight mountain roads, the coach arrived at the Santo Winery, a large building offering wine-tasting and a large terrace overlooking the Aegean, and Nea Kameni, the active volcano which erupted to form the island of Santorini through the accumulation of volcanic rock.
Lee and his guests took a while to stand on the wedding terrace simply to come to terms with the incredible view and what was about to happen. Kerry's Mercedes limousine arrived, and after stepping out into the hot sunshine and breeze, she took the short walk onto the wedding terrace, preceded by her many bridesmaids, to meet Lee, who was waiting for her at the end of the aisle.
As the Greek celebrant conducted the ceremony in both English and Greek, Kerry and Lee's guests looked-on at this most beautiful moment. With the couple officially husband and wife, there was time for drinks before Mark Pugh joined Kerry and Lee in their wedding transport whilst the other guests made their way to the reception venue, Santorini Princess.
The wedding transport took Mark, Kerry and Lee to a church atop a steep hill offering views of most of the island and coastline; it really was a lovely spot for a handful of formal photographs. Within minutes, Kerry and Lee's car drew-up at the Santorini Princess, a five star luxury hotel set into a cliff overlooking the sea to the west of Santorini. The whole site had been angled in such a way as to allow everyone to witness the beautiful, and famous, Santorini sunset.
With the opportunity for more group and couple photographs seized, the time had come for the wedding reception, speeches and first dance.
Mark Pugh left the couple and their guests dancing their way into the night.
It was a genuine pleasure to have been able to spend time in the company of Kerry, Lee and their friends and family. Without exception, everyone was extremely friendly.
Kerry and Lee's main wedding photography collection contains 250+ images. However, we have decided to share 90ish image previews on behalf of Mark Pugh and these can be viewed below.
Enjoy.
THE TEAM INVOLVED IN THEIR SPECIAL DAY
Professional Destination Wedding Planner: Lisa burton www.thebridalconsultants.com
Wedding Dress Designer: Maggie Sottero www.maggiesottero.com
Which boutique did you purchase your dress from?: Online
Bride's Shoes: Stuart Weitzman www.stuartweitzman.com
Bride Hair Adornment/Headpiece: Jenny Packham www.jennypackham.com
Hair Stylist: Bella Damigou based in Santorini www.bellasantorini.com
Make-up Artist: Paige Robinson
Bridesmaid's Dresses: Dessy www.dessy.com
Bouquets: designed and created by the bride Kerry with florist wire and silk flowers.
Groom'/Best Man Attire: Zara www.zara.com
Groom/Best Man shoes: Russell and Bromley www.russellandbromley.co.uk
Wedding rings purchased from: Cartier www.cartier.co.uk
Caterers: Santorini Princess Luxury Spa Hotel www.santoriniprincess.com
Stationery / Wedding Invitations: Here Comes The Bride
Reception Venue Florist/Wedding cake/Transport: organised by Lisa Burton - The Bridal Consultant www.thebridalconsultants.com
About Santorini - The Island (Thira)
Voted Best Island in the World in 2014, it's easy to see why Brad Pitt and Angelina Jolie have a holiday home on this idyllic Aegean island. Used as a base for the recording of a U2 album, the island comprises traditional Greek architecture with five star luxury hotels.
Santorini Princess (Wedding Reception Venue)
With its 22 rooms, and full spa, it's easy to see why the Santorini Princess Luxury Spa Hotel www.santoriniprincess.com is listed in the 2010 Condé Nast Traveler Gold List of the world's best places to stay, and the ideal location for a wedding and/or wedding reception.
Ceremony Venue: Santo Winery www.santowines.gr/en
Preparations (Groom/Bride) | Hotel Accommodation
Aegean Plaza Hotel, Kamari.
 
Book www.markpugh.com 12 months in advance and receive special discount.
Complete the short form below and say hello.